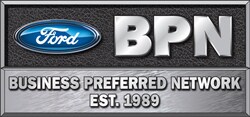 Ford Fleet has many benefits that make things easier on purchasing and daily operations of how you do business. With Ford Fleet, you can reduce the stress of managing a fleet and concentrate on what builds your business.
There are many forms of Fleet - Commercial, Rental and Government. Here at Town & Country Ford of Nashville we are committed to assisting all types. We are supported by a Top Notch Service Department with a dedicated staff to handle your maintenance and repair needs. Our Fleet Sales Specialist is Bill Thorne, he handles all bids, purchasing and modification requests. He has fostered relationships with body modifiers to tailor a vehicle to meet your daily work needs. We all know that the right tool gets the job done. Regardless of your fleet size or needs we are your local connection to get it all done.
Have you heard of Crew Chief?Crew Chief? powered by Telogis® helps keep you in control of your fleet. With total fleet visibility and real-time alerts on a wide range of driver and vehicle metrics, you'll be managing your fleet efficiently. Get reports on anything from driving patterns and fuel efficiency to asset utilization and vehicle maintenance. This technology can help boost your fleet productivity. After all, at the top of your list is your bottom line.
Ford vehicles are as diverse in capabilities as there are needs and uses. New Hybrid technology is an excellent advantage to a fleet that is on the road all day with city driving, keeping the fuel and maintenance costs down. Ford trucks beat the competition hands down as America's Best-Selling Truck of the Year for 39-years in a row and counting. The Right Truck is the Right Tool and you can rely on F-150 and Super Duty to be that truck.
Ford does Fleet - Town and Country Ford is your local Nashville Area connection.
Towing Guides by Model Year: https://www.fleet.ford.com/towing-guides/
Registering for a fleet account with Ford:http://www.fleet.ford.com/get-started/register-fleet-account/
Fleet eligibility requirements with Ford:https://www.fleet.ford.com/get-started/eligibility-documentation/
For Ford Fleet Customer Information Center:
1-800-34-FLEET(1-800-343-5338)
Monday-Friday 8:30 AM-5 PM EST