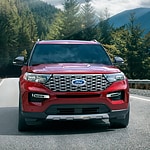 Ford models have gotten new tweaks in their latest adjustments. The Explorer is not an exception. It comes with a wide range of capabilities to take you anywhere in Madison. Whether you are in for upcountry visits or any adventures, the Explorer has your back.
At Town & Country, the Ford Explorer offers you an all-new rear-wheel drive, a four-wheel-drive system, impressive ten-speed transmission, and a terrain management system. With these features, the Explorer is ready to take you to the road.
The rear-wheel-drive improves the performance and off-road capabilities of the Explorer.
Read More